Je suis étudiante en Photo et Vidéo, je rentre fraîchement d'un voyage à  Amsterdam de cinq mois où j'ai commencé un travail d'autoportrait érotique. J'ai parallèlement décrit cette expérience dans un journal.
Ce projet a quelques mois maintenant, écrire cet article va me permettre de faire le point avec vous.  
Tout a commencé lorsque pour un cours de théorie en art j'ai choisi la photographie érotique comme sujet de recherche. En commençant cette étude j'avais dans un coin de la tête l'idée de produire mes propres images érotiques.
J'ai commencé par dresser une liste de mots, d'endroit, d'accessoires, de situations qui étaient les plus fréquents dans les images qui me fascinaient tout en me donnant le but final de créer des mises en scène dans lesquelles je me réapproprierais ces éléments.
C'est ainsi que j'ai commencé à me photographier dans ma chambre à Amsterdam.
Dans un deuxième temps, j'ai commencé à tenir un journal expliquant les images que j'avais en tête, mes réactions lors des shootings, et parfois mes impressions sur les images.
Le journal commence ainsi à la date du 27/11/15 :
I began this experiment on October 28th 2015, one month ago now. I chose the erotic photography as topic of research because it has been fascinating me for a long time.
Probably because it has this power of causing a physical and mental reaction and it plays with the imagination of the beholder.
In the beginning of this research I had the idea to make my own erotic images.
Already then the question was, pictures for me or by me? And to satisfy my own fantasies or to speak about those of others.
While starting my research I realized that it would be interesting to take my own pictures in parallel with the study of my fascination. I chose to take erotic images of myself, but in the context of the collective imaginary; and not just my own fantasies:
I always had difficulty in photographing people and in particular to ask them to take a pose. And I knew to make these erotic images, it would be necessary to put the models in a situation that would be uncomfortable for them.
So I did what I always do in this situation, I chose to make myself the model. Firstly I am always available to myself, what is practical and secondly I can try out everything I have in my head without causing other people discomfort.
When I try to look at this way of working from a distance and to see it in a context of art history, I notice that the body can be used as a tool that is easily accessible. This is a way of working that many artists have used throughout time; and I find it interesting to explore this approach.
At the beginning my relationship with the self-portrait was very pragmatic. I am looking for a model, I have a body, let's do it!
Il a été très difficile d'écrire pour moi au début. Premièrement, l'écriture n'est vraiment pas mon domaine, ce n'est pas pour rien que j'ai choisi le langage de l'image… Et deuxièmement c'est encore plus compliqué d'écrire honnêtement ce que l'on attend et ce que l'on pense de photos érotiques exhibant son propre corps. Je savais que le texte ne serait intéressant que si j'étais vraiment honnête dans mon écriture. Il y a pourtant comme une barrière, une pudeur automatique qui m'obligeait à mentir. Il m'a fallu franchir cet obstacle et y aller franchement pour analyser ce que je ressentais réellement. Une fois les sensations et les pensées assumées, je me suis rendu compte que mon texte pouvait être drôle, ce à quoi je ne m'attendais pas du tout…
Finalement j'ai réalisé que cette expérience était comme un jeu pour moi.
Cet extrait explique le moment où j'ai pris ma première image :
27/11/15
I started to photograph my foot. I did not take too much risk to begin with.
I had already observed this phenomenon, when I wear my fishnet socks the pressure of my shoes, prints the pattern of the fishnet on my skin.
In my research I am looking into the category of fetish. The fetishism of feet is one of the most famous.
So, I immediately made the connection: fishnet = erotic / feet = fetish / feet + fishnet = good erotic image for fetishists.
I took my camera and I photographed my feet before the traces of the fishnet would leave. I am looking for some good light and I start photographing. What I see on the small screen of my camera doesn't delight me. To be honest the feet still disgusted me in general, my own included. Furthermore, my nail polish is not really fresh, it does not help the harmony of the picture. So I try to play with light to put the interest on the fishnet traces. And finally I am looking for the best position for my ankles to look nice.
Plus ça allait, plus j'étais à l'aise avec mon corps et j'en dévoilais plus.
02/12/2015
Then I photographed the two images with red light (classical) wearing a nightie. In this picture I think I wanted to stage the image I had of erotic movies of the 1970s in Italy. I have often heard about these movies though I've never seen any of them, but I can imagine the atmosphere.
I like the idea of these two images forming a sequence. This builds on the idea of an action taking place over time, and it becomes even more stimulating for the imagination.
I am tempted to describe the image using « she »: "she is on the bed", "she shows a breast". But I can't do that, because I know it's me on the pictures.
At this moment I felt more comfortable showing my body in these suggestive situations. Yes, I surpass the limit of the nipple.
At one point I thought this work was extremely narcissistic, it scared me.
The next step: the buttocks and the fantasy of the girl who wears tights without panties.
04/12/15
I had this image in my mind since I started the project. So I was very excited to realise it. And the final image is exactly what I had in mind. I love it because the fleshy buttocks seem very generous.
I remember I liked the feeling of my body contracted in the tights, I felt sexy even if the color of the tights makes me think of a grandma. This color of the tights is close to the color of my skin and when I wore them it made me think of my legs as prosthesis, as a body extension. I think of the work of Jan Manski when I see the picture.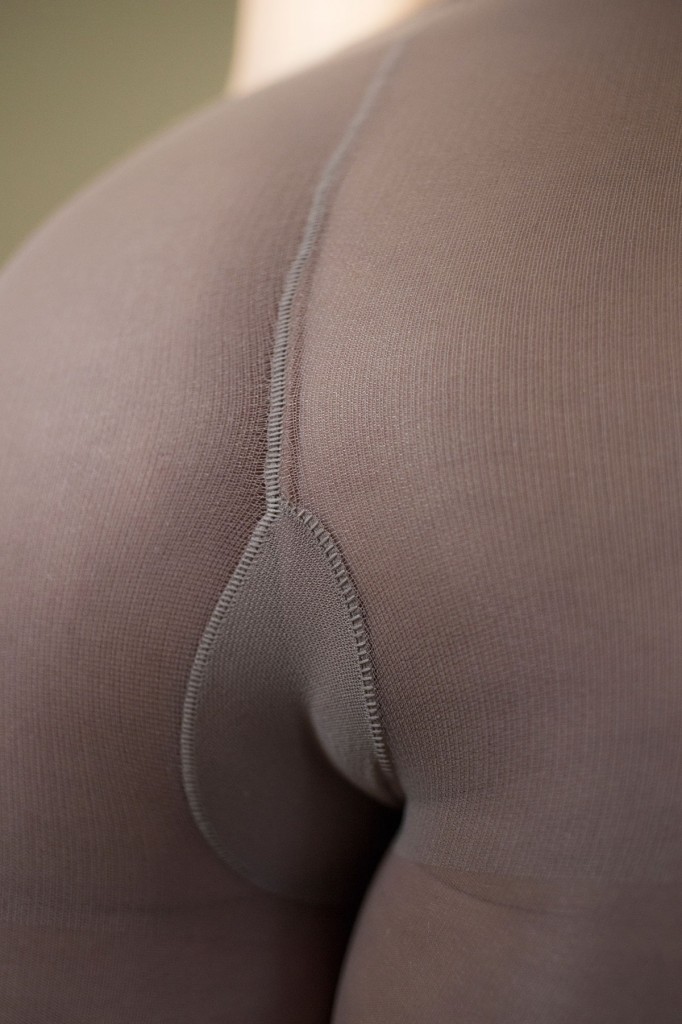 05/12/15

Today I looked at my list and I want to try several things. I really want to use my white fur coat, it looks like something in between a prostitute's coat and the skin of a beast. When I wear it I know people are watching me. I think it could be interesting to see this coat in combination with my white skin. I can wear it and squeeze out a buttock or one of my breasts. I can't wait to have the feeling of being naked in the coat, and particularly this one.
But when I try to take pictures of me wearing the fur coat I'm not pleased with the results at all. I can't find the right point of view. The light is ugly and my body doesn't seem attractive. I feel that the situation (me alone with my camera) limits me, my arm is not long enough. I lie down on the bed because I'm upset and I find a good framing in this position. I think "breath deeply, relax your body and focus all the tension in the arm and the hand holding the camera."
Somewhere in between taking the picture of me wearing tights and this one with the fur coat I realised that the confrontation of materials and skin intrigues me a lot …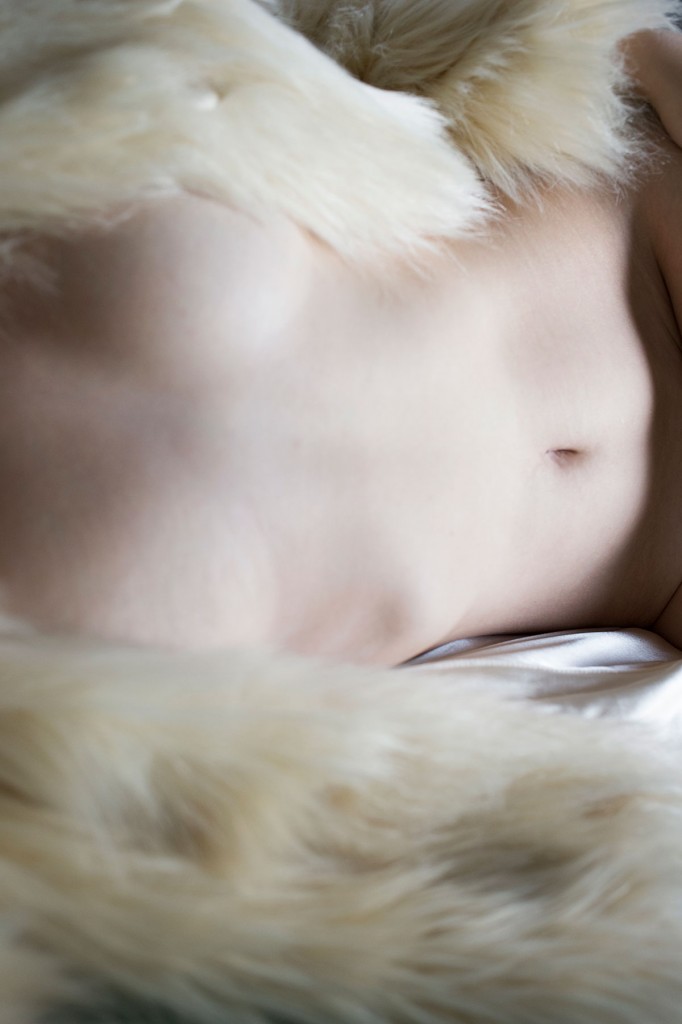 Pour l'instant je n'en suis qu'au début, je sais qu'il me reste beaucoup à faire et à expérimenter. Je sais aussi que j'ai plein de choses en tête sur les raisons pour lesquelles j'ai commencé ce projet et qu'il me reste à les mettre en forme.
Ce qui est clair pour moi c'est que ma démarche traite du passage à l'âge adulte, de la découverte de notre corps de femme, dont on doit assumer les pouvoirs. Dans mes photos j'essaie de capter la dimension énigmatique et le pouvoir attractif de ce corps.
D'autres idées ou notions me semblent importantes, en l'occurence celle du stéréotype, mais je ne sais pas encore la place qu'elle a dans ce projet, il me reste à m'en emparer et à me l'approprier.
Des questions me semblent essentielles. Que cela signifie ? Montrer son corps ainsi dans une société ou le porno est partout et les selfies définissent une personne.
Où se situe la notion de féminisme dans ce travail, quelle est ma place ? Comment vivre sa féminité quand on est une jeune femme en 2016 ?
En quoi cela serait de l'art ?
Bref, Je suis le cobaye de ma propre expérience et avoir du recul sur ce que je fais est encore plus difficile, il me reste encore du chemin à parcourir.
A suivre…